I love to discover how a classic dish is being re-interpreted in different parts of the world and even in different areas of my country. This crustless blueberry pie is an adaptation of a recipe I tasted while traveling to the lovely Transylvanian city of Sibiu. The local name of the pie is Lichiu, and it is actually a semolina fruit cake combined with a leavened layer of dough.
My version is a very easy semolina crustless pie, to which I added a lot of blueberries that were too ripe to be eaten or frozen. The result was a light combo, which reminded me of the milk semolina desserts my mother used to make in our childhood. New experiences layered over old memories.
Pin
Although I try to avoid cooking fresh fruits, for getting the maximum benefits from their nutritional load, sometimes I can't resist the temptation of adding them to low-sugar desserts that require baking.
While the anthocyanin antioxidants in blueberries (the ones that give the blueish hue) are affected during the process, there are still some of their nutrients that resist, for instance quercitin and phenolic acids, and their fiber and detox-involved minerals manganese and copper also remain intact during cooking. Pretty much acceptable for this way of consuming nutrient-rich fruits, as most of the time I eat them raw for breakfast, with yogurt or in smoothies.
Pin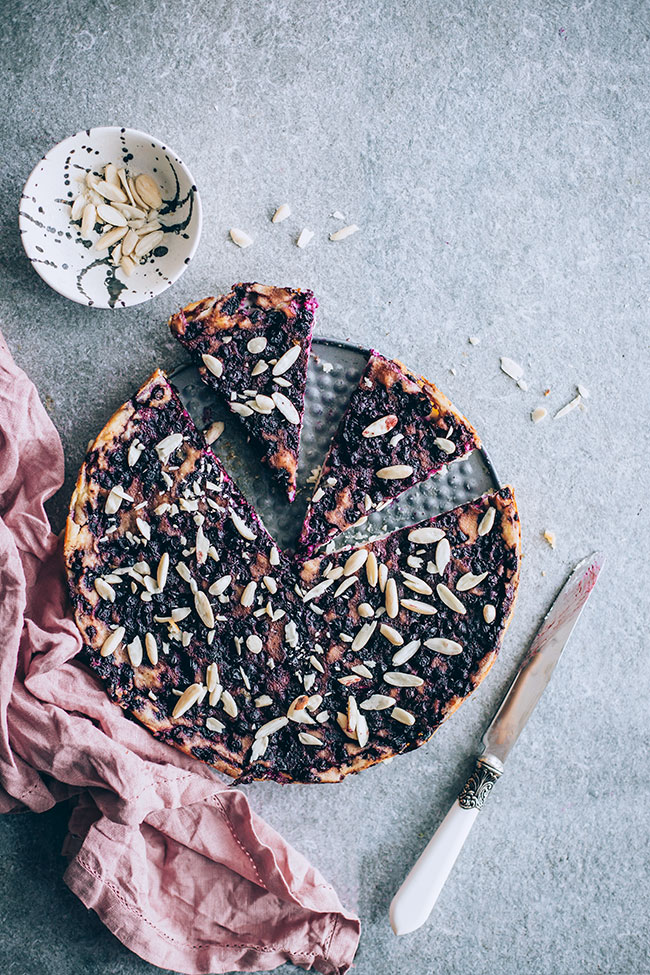 Pin

Although berries aren't among the sweeter fruits available (their sugar content is actually about half when compared to other fruits such as banana, watermelon or pomegranate), I use them to sweeten my desserts and reduce the amount of extra added sugar.

For this blueberry pie I only used 2 tbsp of coconut sugar and left the fruits sugar to make its magic. The added sugar is actually the reason why I try to stay away from baked sweets and prefer having them on a special occasion only.
Pin
If you're wondering about the spectacular colors in this pie, it's because I used wild blueberries from the forest which I often find at the farmers' market in summer months. The conventional blueberries only have their skin colored in blue, while their pulp is yellowish.
The blueberries picked from wild forest bushes are much smaller and their pulp is colored in shades of purple. During summer I try to consume only wild blueberries as they have a higher content of antioxidants, and also freeze a lot to use in cold months. The regular blueberries are found fresh in supermarkets all year round so no need to freeze those.
If you are looking for more inspiration for using summer berries make sure to check out my Blueberry Raw Cheesecake recipe, my Beet Smoothie with Blueberries,  this delicious Acai Breakfast Bowl recipe with raspberries, or my very popular Chia Acai Layered Breakfast Jar.
Crustless Blueberry Pie
A more light and easy adaptation of the classic blueberry pie, interpreted after a traditional Transylvanian dessert named Lichiu. Made with semolina and loads of wild blueberries for a vibrant color and more antioxidants.
Ingredients
2

cups

unsweetened almond milk

1

cup

full fat coconut milk

refrigerated until thick

1

cup

semolina flour

2

tbsp

coconut sugar

2

cups

blueberries

fresh (I used the wild variety for a brighter color, but conventional blueberries work just fine)

3

organic eggs

1/4

tsp

sea salt

Almond flakes

to garnish
Instructions
Preheat the oven to 175 C/ 346 F.

Mix the the almond milk and sugar into a medium sauce pan over medium heat, and just before starting to boil turn the heat to low and gradually add the semolina flour, mixing continuously.

Cook over low heat for 4 minutes, stirring frequently, then remove and set aside to cool.

Beat the eggs with a fork, and add them to the cooled semolina mixture.

Add the coconut milk too, add the sea salt and whisk to incorporate.

Transfer the batter into a 10" removable bottom baking pan, and top with the blueberries, pressing down them with a spatula into the batter.

Bake for 30 mins then remove and set aside to cool.

Garnish with almond flakes, cut into slices and serve.
Notes