This is my first vegan ice cream attempt, and I can't say how happy I am about the result! The creaminess, the sweetness, and rich taste…who would've thought I could obtain such an indulgence with only four ingredients and without the aid of an ice cream machine?
The simple base of this ice cream is a breeze, because you actually don't need to do anything but freeze some ingredients, then add to the food processor and freeze again. That's all! From there, you can work your magic with flavors, but if you don't have time to do so, the base is delicious on its own and you can make it in minutes.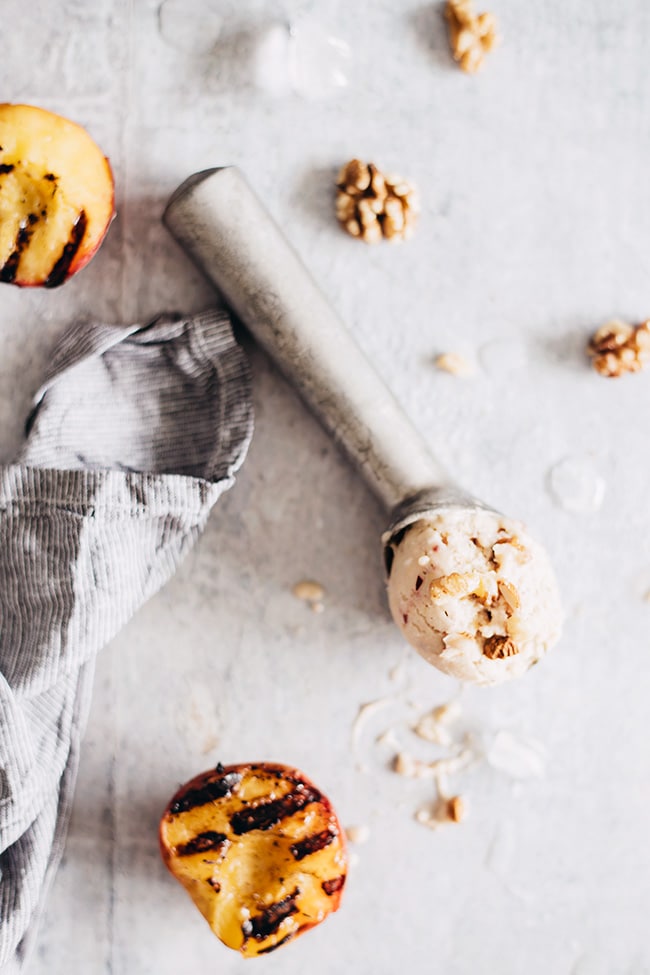 Pin
I would love to say this vegan ice cream base was my idea, but I actually found it in the lovely book N'Ice Cream by Tuulia and Vanelja—a beautiful experiment with flavours to create vegan ice creams that you can actually enjoy.
The girls kept things simple and easy, using blends of frozen bananas and other fruits, nut butters, nut milks, or avocado. I especially love the idea of using bananas for creating the base, because you don't need to add any kind of sweetener. Clean, healthy, and delicious!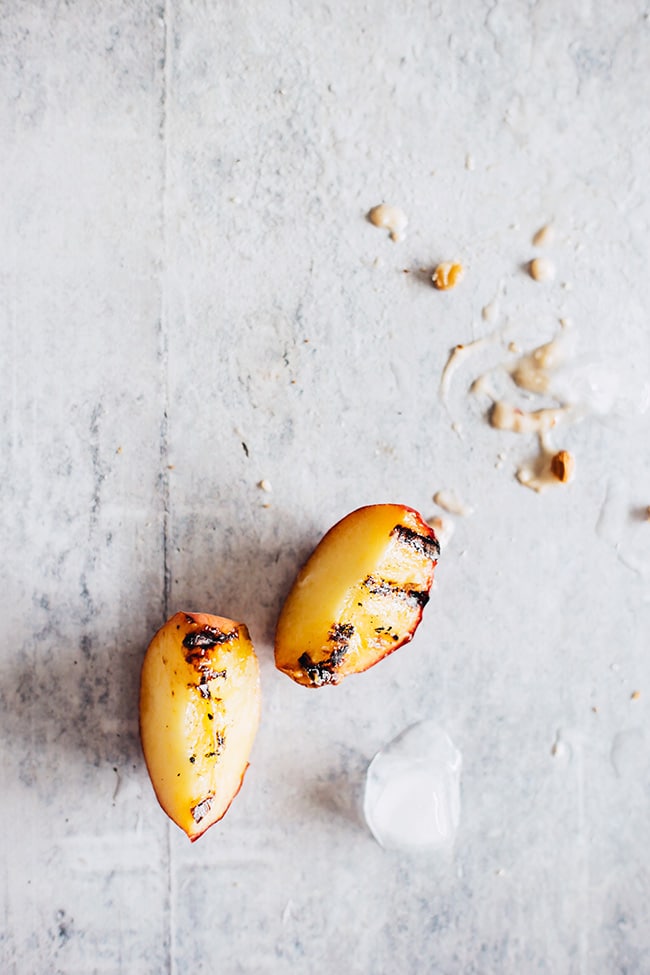 Pin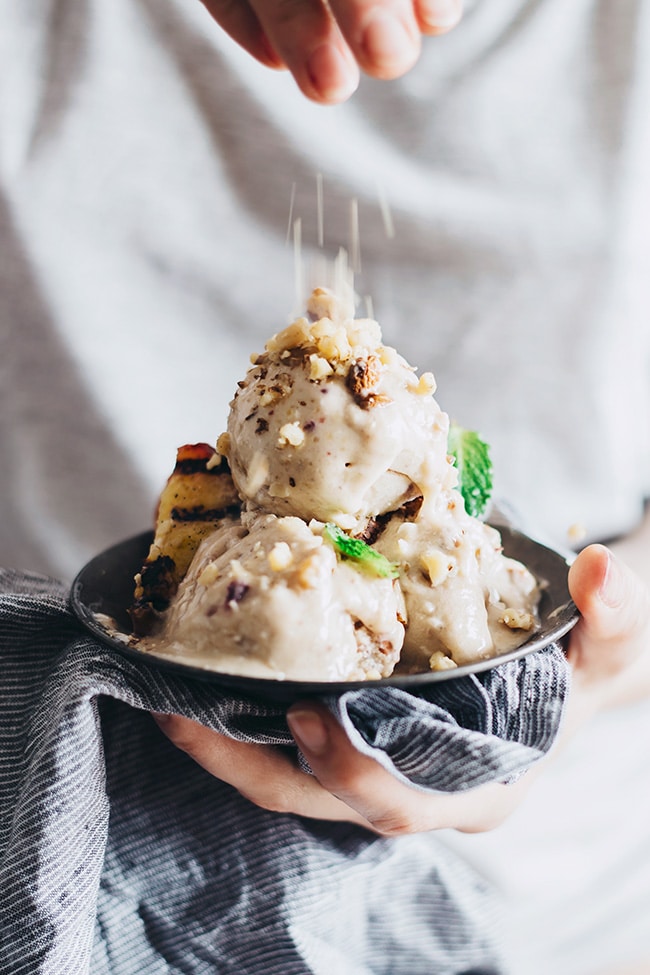 Pin While last year I developed a taste for berry sorbet, I am still a fan of nutty flavours. I love the taste of peanut or almond butter, but this time I wanted to experiment with something new, so I've chosen walnuts and grilled peaches.

The result was awesome—creamy texture, sweet and sour, crunch—all vegan and healthy. Who needs more?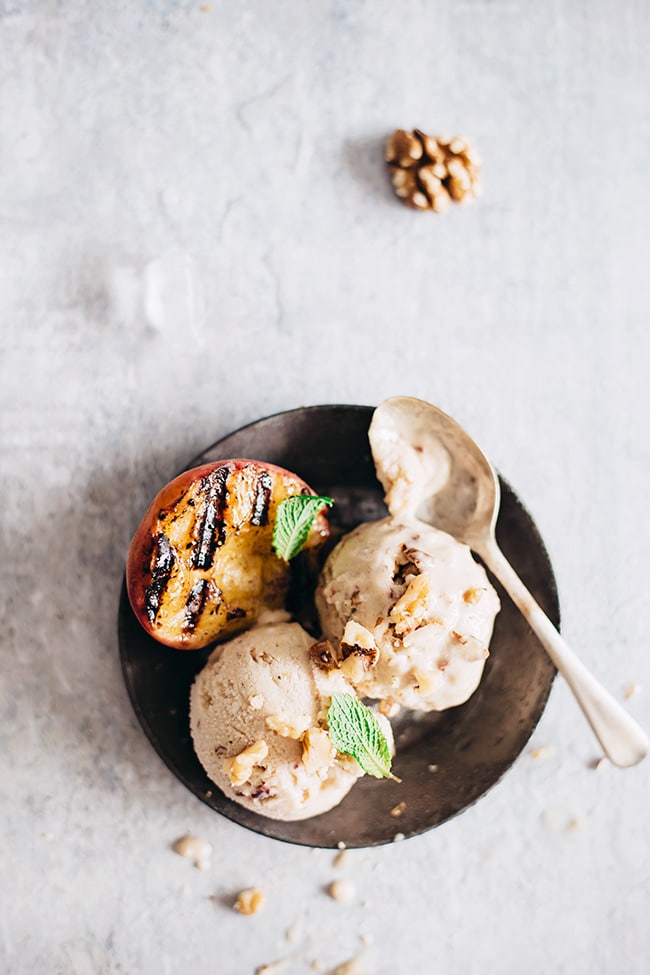 Pin
Creamy Peach and Walnut Ice Cream (Vegan)
Rich and creamy, this vegan ice cream has the crunch from toasted walnuts, the sweetness from bananas, and mild tartness from grilled peaches.
Ingredients
4

frozen bananas

cut them in small chunks before freezing to process easier

1

cup

full fat coconut milk

refrigerated

2

peaches

cut into halves, stone removed

1/2

cup

lightly toasted walnuts

crushed

Optional: 5-6 mint leaves

olive oil

To garnish: crushed walnuts
Instructions
Drizzle the peaches with olive oil and grill them for five minutes. Set aside to cool, then cut into small chunks.

Add the frozen banana chunks, peaches and mint (optional) into a food processor, and pulse to obtain a smooth texture.

Add the coconut milk, and pulse to incorporate.

Add the crushed walnuts, and pulse one time to incorporate.

Transfer into an ice cream casserole and freeze for 30 minutes.

Scoop into serving bowls and serve.
Notes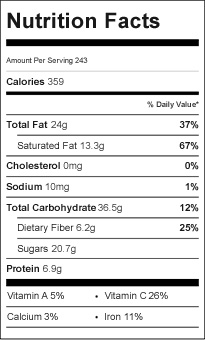 Here are some of the other vegan ice cream ideas I found really lovely:
Whole Hearted Eats – Salted Double Chocolate Ice Cream
The Chalkboard – Coconut Pistachio Ice Cream with Cardamom and Rose
Oh My Veggies – Roasted Banana Ice Cream
Dolly and Oatmeal – Dreamy Chocolate Almond Sundae
Gourmandelle – Banana Nice Cream Nectarines
Minimalist Baker – Almond Pistachio Ice Cream
Wallflower Girl – Rose Raspberry Ripple Ice Cream