It's been quite a while since I've written a post on my blog. A lot of things have happened in between, and while fall slowly emerges, I sort out my memories of the summer, analyze all the projects I've been a part of, print our photographs on paper, make peace with everything that passed, open my mind to new things, and try to make a smooth transition to all of the beautiful things about autumn.
Warming soups are definitely part of the process because there's nothing more comforting than working and organizing things while a lovely smell of kitchen coziness tickles your nostrils.
Pin
Cauliflower is a favorite vegetable over here, and every respectable grandmother pickles it in huge jars for serving with spicy cooked meals throughout winter.
Pickled cauliflower was the only way we used to eat this vegetable when we were kids. I have lovely memories from the pickling season when the women in our house would wake up early to go to the farmers' market, buy the best cauliflower of the day, and then prepare it for pickling while us kids played around.
These simple fall traditions gave us a sense of coziness and belonging, and although I never tried pickling the cauliflower the way my mother or grandmother used to, I'm trying to recreate that feeling by turning this vegetable into a comforting soup on a rainy day like today.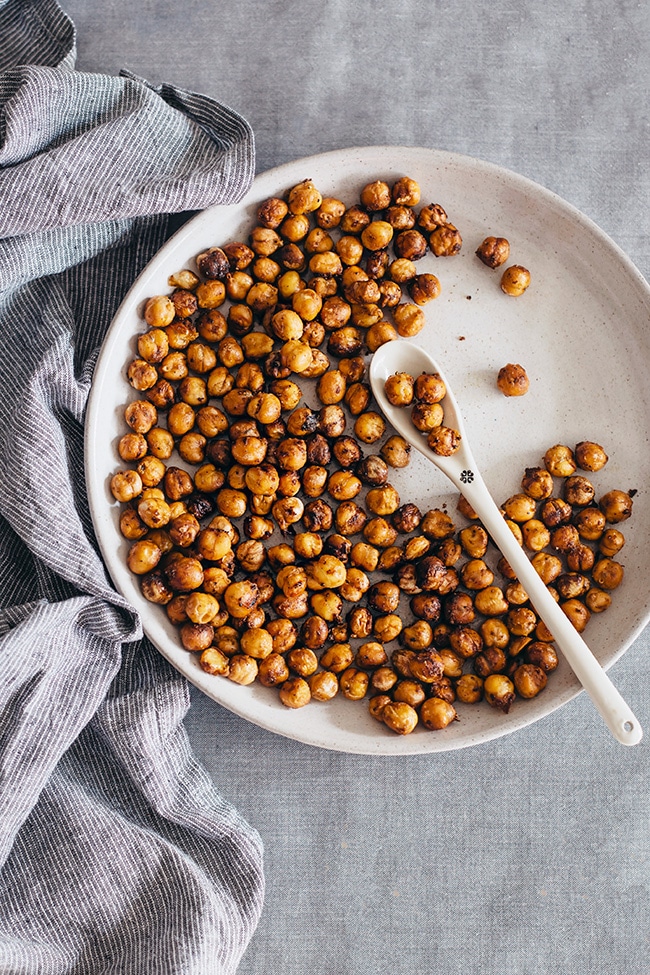 Pin
This cauliflower soup is really simple and makes a great start for the season of warming soups. I try to cook the cauliflower as little as possible to preserve its key phytonutrients, so I'd rather steam it than boil it.
Cauliflower is second to none compared to any of its relatives in the cruciferous family with a wide array of antioxidants, including: beta-carotene, vitamin C, glucosinolates involved in the natural detoxification processes, vitamin K essential for balancing the production of vitamin D (especially in the cold and cloudy season), B vitamins, minerals, and fiber.
Pin

I make this soup using white vegetables such as celery, onion, parsnip, or parsley root and season it generously with cumin. Creaminess comes as a bonus benefit from cauliflower, and I serve it with simple croutons or spicy mustard-roasted chickpeas that can be prepared while steaming the cauliflower. They add a nice flavor, a healthy dose of protein and minerals, and turn the soup into a filling meal.
Creamy Cauliflower Soup with Mustard Roasted Chickpeas
Easy and comforting, this cauliflower soup comes with a creamy texture and a special flavor and crunch from the roasted chickpeas.
Ingredients
For the Soup

1

small cauliflower head

about 300 g

2

celery stalks

diced

1

small parsnip

peeled and diced

1

parsley root

peeled and diced

1

yellow onion

diced

2

garlic cloves

1

tbsp

tahini

3

cups

purified water

Pinch

sea salt

Freshly ground black pepper

1/2

tsp

caraway seeds

1

tsp

cumin powder

1

tbsp

freshly squeezed lemon juice

For the Chickpeas

1

can cooked chickpeas

1

tsp

coconut oil

2

tsp

sugar-free mustard

1/2

tsp

cayenne pepper
Instructions
Preheat the oven to 175°C/347°F.

Cut the cauliflower into florets, place into a bowl with salted water and set aside for five minutes.

Rinse and drain, then steam for 10 minutes.

In medium soup pot add the celery stalks, parsnip, parsley and onion, cover with the purified water and bring to boil over medium heat.

Turn the heat to low, and simmer for 10 minutes. (if you don't have a steamer for the cauliflower, you can add the florets into a large colander or a bamboo steaming basket and place this over the boiling water).

While the soup is boiling, prepare the chickpeas:

Rinse the canned chickpeas, drain and add onto a baking tray.

Drizzle with oil, add mustard and cayenne, and toss to coat evenly.

Roast for 15 minutes, until golden. Remove from the oven and set aside.

Transfer the liquid, vegetables and steamed cauliflower into the blender, add tahini, garlic, salt, pepper, cumin, caraway and lemon juice, and pulse to obtain a creamy soup.

Pour into serving bowls, garnish with roasted chickpeas and serve warm.
Notes