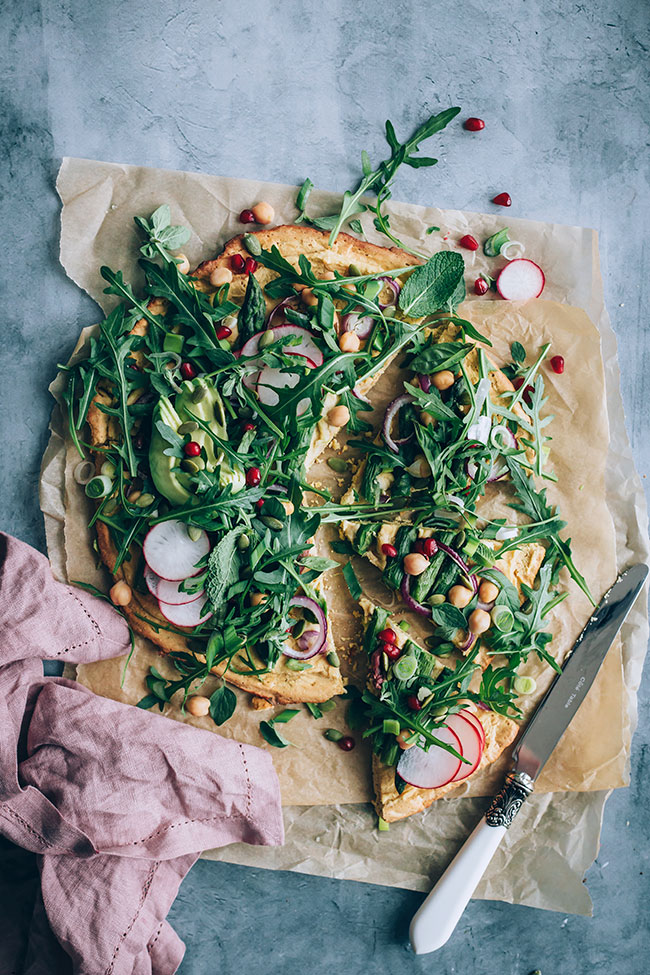 I can't think of one single person that I know who doesn't like pizza. If you're nodding your head in agreement then whip out your apron darling, because a pizza party is the perfect excuse to have your friends over for some fun!
And since we're going to go to the trouble of making it all from scratch, this gluten-free and vegan chickpea pizza, or socca by its Italian name, is the perfect recipe. Gather all the vegans around and blow their taste buds! The exclusion of gluten will also have your body (and your gluten intolerant friends) loving you for it.
I'm not strictly vegan myself, but I have friends who are, so I always find it an interesting challenge to come up with meals they will enjoy and appreciate, and it's also fun to introduce non vegan or vegetarian friends to recipes that they wouldn't otherwise have considered getting to grips with.
You don't need to have lashings of cheese on a pizza for it to be tasty, and in fact the greens galore topping will have you wondering why you ever did.
You also don't have to opt for the standard tomato paste base – using hummus instead brings about a whole new flavor dimension.
For the die-hard cheese fans, you can have a bowl of nutritional yeast handy to sprinkle over the pizza, without losing any of the delicious flavors you've just created.
Chickpea flour is readily available in most grocery stores these days, you'll definitely find it in health stores, or if you want to go all out, simply make your own.
It's as easy as pulsing dried chickpeas in a high speed blender until they're broken down into a fine powder, and then sift out any large pieces. One cup of chickpeas will yield about a cup and a half of flour.
Healthy pizza, anyone? Hell, yes! Nothing in this recipe has any adverse health effects, quite the opposite in fact, and if you can get your hands on organic veggies, all the better.
Play around with different toppings as well – bell peppers, mushrooms, tomatoes, fresh basil, avocado, rocket… the options are almost endless.
I hope you'll enjoy this gluten free chickpea crust pizza and you can also check out my vegan flatbread pizza recipe, the cauliflower crust pizza or , if you like to roll the bread, the sweet potato lunch wrap with hummus and greens.