For quite a while I've been planning a gluten-free pizza, but I worried that the result would turn mushy, fall apart, or simply taste hideous. Although I only bake it once a month, we love crispy, homemade pizza dough with different combinations of whole flours, healthy oils, and yeast. These ones always turn out tasty and with the appropriate texture. Yesterday, I decided to give the cauliflower-crust pizza a try, although I was pretty sure that we would have to dine out or order takeout!
Pin
I was never diagnosed with gluten intolerance, but I try to avoid baking with flours containing gluten (especially white wheat flour, which is highly processed and has very few nutrients left). I discovered that eating baked products made with processed flours makes me swollen and gives me digestive discomfort.
White flour creates acidity in our body and gives the stomach a very hard time during digestion. Although saliva breaks down some of the starch in the white flour, the enzymes in the stomach can't handle it very well, so it will move over and stick to the intestines. If our diet is low in fiber, it will be even more difficult to make the white flour starch travel easily through the intestines and flush it out, but that is another subject.
Pin
Returning to the gluten problem, more and more people say they have a gluten intolerance, some without even being tested by physicians. Being gluten intolerant has become a bit of a fad. It is a must to be diagnosed by a physician before changing your diet, but there is one aspect that actually justifies the increasing number of people having problems with digesting gluten.
The frequent intake of refined sugar, antibiotics, GMO (genetic modified organisms), a poor diet lacking living foods and nutrients, together with the constant contact with environmental toxins, all contribute to damaging the intestinal flora, leading to gluten intolerance. Except for genetic predispositions, gluten sensitivity is our body's response to a chaotic diet, medications, and constant environmental intoxication.
Until we fix these things up, we can still indulge in our favorite dishes with their gluten-free versions. If you love pizza, you can choose a gluten-free flour for the crust or make a cauliflower one. Of course, the crust won't be as crispy and flavorful as you're used to, but it will be light, healthy, and gluten-free.
I made two batches of cauliflower crust, and it turned out it needed more baking time than I've seen on food bloggers' recipes. I baked the crust for about thirty minutes to reach the right consistency and not ending up crispy on the outside with a soggy inside.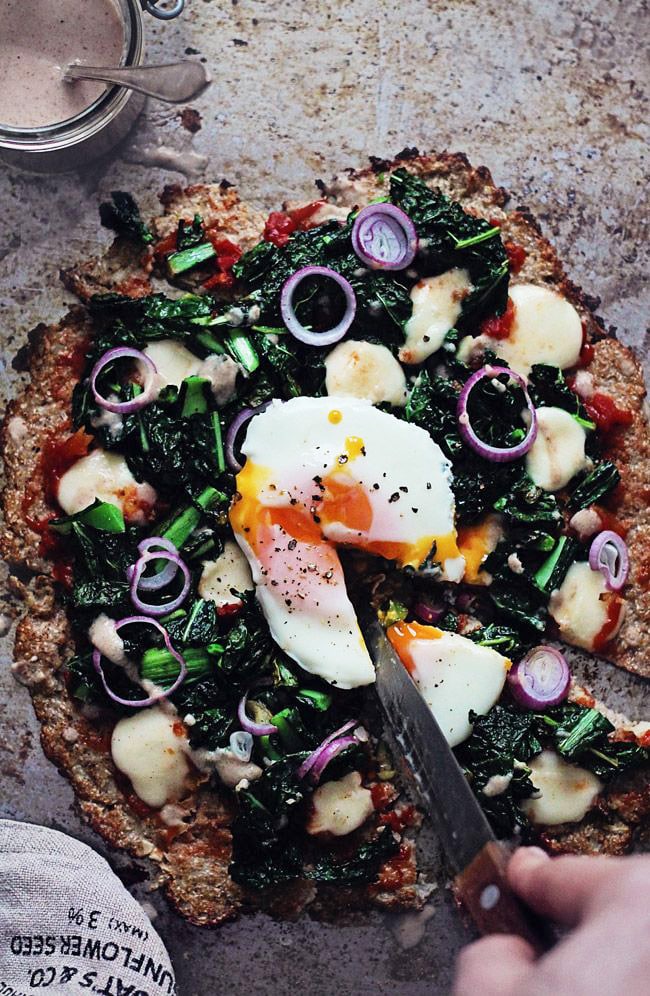 Pin
Cauliflower Crust Pizza with Kale and Roasted Garlic Sauce
A delicious, gluten-free version of pizza, topped with healthy kale and soft-baked eggs, served with a flavorful, roasted garlic sauce.
Ingredients
"Dough"

1

small cauliflower head

cut in florets

½

cup

buckwheat flour

1

organic egg

replace with ground flax for the vegan version

¼

tsp

sea salt

1

tsp

coconut oil

Topping

1

cup

kale

roughly chopped

1

tsp

olive oil

1

red onion

cut in thin rings

½

cup

mozzarella cheese

4

tbsp

tomato sauce

1/4

tsp

sea salt

2

organic eggs

freshly ground black pepper

Sauce

1

medium garlic bulb

roasted (it can be roasted along with pizza)

1

tsp

tahini

sesame paste

2

tbsp

lemon juice
Instructions
Heat the oven at 200°C/392°F

Place the cauliflower florets in a food processor and pulse to obtain a rice-like texture that won't stick together. Don't process it too much because it will turn into a very wet pure and will need more baking time (if the machine bowl is small, you might need to make this in two batches).

Transfer the cauliflower into a large bowl, add buckwheat flour, salt, eggs and mix to obtain a wet "dough" ball.

Transfer the cauliflower ball onto a pizza stone, press it to spread and make ½ inch thick pizza crust shape.

Brush the top with coconut oil and bake for 15 minutes.

Flip over and bake for another 15 minutes.

While the crust is baking, prepare the kale topping – heat the olive oil in a cast iron skillet, add kale, season with salt and cook for 5 minutes over low heat, stirring frequently. Remove from the heat and set aside.

Remove from the oven, spread it with tomato sauce, add mozzarella, cooked kale, and onion rings and bake for five minutes, until mozzarella is melted.

Crack eggs on top and bake for two more minutes.

Place the sauce ingredients in the blender and process to obtain a creamy liquid.

Season with freshly ground pepper and serve right away, with garlic sauce.