Maybe the evening raindrops or the dense clouds from this morning try to hide them, but there are signs of spring everywhere. The extra hour of daylight, the sound of birds, the first fresh nettles cheering up the stalls at the farmers' market, people sipping coffee or having lunch in the park, those special sun rays from Saturday morning and that smiling gypsy lady selling delicate snowdrops – everything adds just a little more to a good mood, whipping away the winter depression. I can't wait for the flowers and tree buds to bloom, but until then, even though my sandwiches are made with fresh spring ingredients, I'm still heating my oven for baking.
Pin
During my Stockholm visit last year, I fell in love with their amazing smørrebrød (actually it originated from Denmark) and made a habit to build these healthy sandwiches ever since. I don't always have the time to make proper bread at home, and it's very true that it never tastes the same as it did during the holidays, but since my flu grounded me to stay in the house for more than a week, I played in the kitchen and made a delicious piece of bread.
I would love to have the strength and ambition to use sourdough for making my bread, but I don't really like to stick to recipes, and I'd rather play with the ingredients instead. Plus, I gain weight very easily and since I'm head-over-heels for the bread taste, it would be very difficult for me to only eat a slice and not use it daily in salads or with stews and cream soups.
I use, as a start point, Sarah's genius recipe of flourless bread, and I add gluten-free flours such as buckwheat, chickpea or almond flour to enrich its nutritional value. This is a fantastic bread to use for quick healthy snacks such as smørrebrød – it's dense, nutty and nutritious, and you don't need a lot to feel satiated because it is high in fiber and protein. Sounds like perfection to me!
Pin
Playing with ingredients is always a delight, but there's one combination that comes to mind first when it comes to quick sandwiches. There is something special about adding together egg, avocado and bread, maybe because of the different textures, the creaminess of the avocado, or probably, the sense of a good nutritious meal that our body cells are fed with.
This combination has it all – complete protein for building new cells, healthy fats for balanced hormone production, magnesium for supporting the cells' activity, selenium for a healthy thyroid and natural detoxification, fresh enzymes for a healthy liver, and fiber for good digestion and colon health. The taste is delicious and you only need two open-faced sandwiches to call it a breakfast, a lunch or a satiating afternoon snack.
Pin
Avocado and Egg Spring Sandwich
Rich and delicious, this simple sandwich made with seed bread is loaded with all the nutrients your body needs to support a healthy activity.
Ingredients
1

ripe avocado

peeled

1/2

lime

juice only

1

soft-boiled organic egg

2

radishes

cut into thin slices

1

scallion

finely diced

Freshly ground black pepper

A pinch sea salt

2

slices

of the Seed Bread bellow

Mixed seeds to garnish
Instructions
Add the avocado, lime juice and sea salt into a small bowl and use a fork to mash it roughly.

Spread the mashed avocado onto the bread slices, add a sliced radish on each slice, top with boiled egg halves, garnish with mixed seeds and scallion.

Add some freshly ground black pepper and serve.
Notes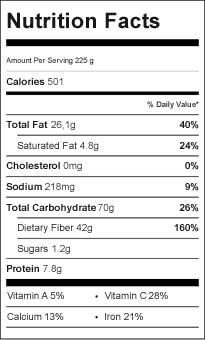 Nutrition
Super Seed Bread
Loaded with fiber, minerals, protein and healthy fats, this bread is a great choice for a satiating sandwich.
Ingredients
1

cuo

sunflower seeds

raw

1/2

cup

flaxseeds

crushed

1/2

cup

sesame seeds

1/2

cup

raw almond

crushed

1/2

cup

rolled oats

1/2

cup

chia seeds

1

cup

psyllium husk

1

tbsp

organic raw honey

or maple syrup

1

tbsp

coconut oil

melted

1

tsp

sea salt

1/2

cup

buckwheat flour

2

cups

water
Instructions
To prepare the bread, mix all the dry ingredients into a medium bowl, then pour the wet ingredients and mix to combine until all the ingredients are soaked.

Cover the bowl and set aside for at least one hour, to allow the seeds and husk to absorb all the water.

Line a baking pan with parchment paper, then transfer the mixture inside and line it evenly using a spoon.

Preheat the oven to 175°C / 350°F.

Bake the bread for 20 - 30 minutes, until golden.

Remove from the baking pan and set aside to cool completely before slicing.
Notes
Nutrition