If you're after a bit of inspiration when it comes to your morning smoothies, you have to experiment these formulas! Not just regular smoothies, but rather meal replacement shakes for breakfast that serve as nutritious meals on the go and don't make you crave for solid food after an hour or so.
If you're a fan of meal prep you can cook up some of the ingredients, such as pumpkin and quinoa, and keep them aside in the fridge ready for use.
Pin
I use smoothies to get plenty of antioxidant nutrients from fruits such as blueberries, pomegranate and kiwifruit. They are all packed with diverse compounds with health benefits, from immune boosting properties and to reducing free-radical damage.
This is cellular damage caused by poor diet, environmental pollutants and even every-day stress. My slow thyroid condition puts me at risk of early aging too, so adding extra doses of antioxidants, especially vitamin C-rich ingredients, helps stimulating the collagen production and maintain a healthy, glowing skin.
By combining sweet and savory ingredients in your breakfast protein smoothies you can create a satiating mix with  health boosting properties. Play with spices too, especially healing ones, such as cardamom, cinnamon and turmeric.
Pin
They are exceptional anti-inflammatory agents that also assist with acidity in the body. As inflammation and acidity are at the root of many diseases, it's important to pay attention to the ingredients that balances your cell environment and give you a comforting sensation after eating. 
Superfoods are also a good addition to our healthy fruit smoothie recipes, boosting their nutritional load and adding extra health properties to your shakes. Cacao, coconut oil, quinoa and bee pollen go above and beyond their already high nutrient profiles. All of these superfoods are known to take your health to the next level, through regular inclusion in your diet.
Bee pollen in particular is known as one of the most nourishing foods to man, and is made up of 40% protein, including some of the highest concentrations of essential amino acids for optimal health.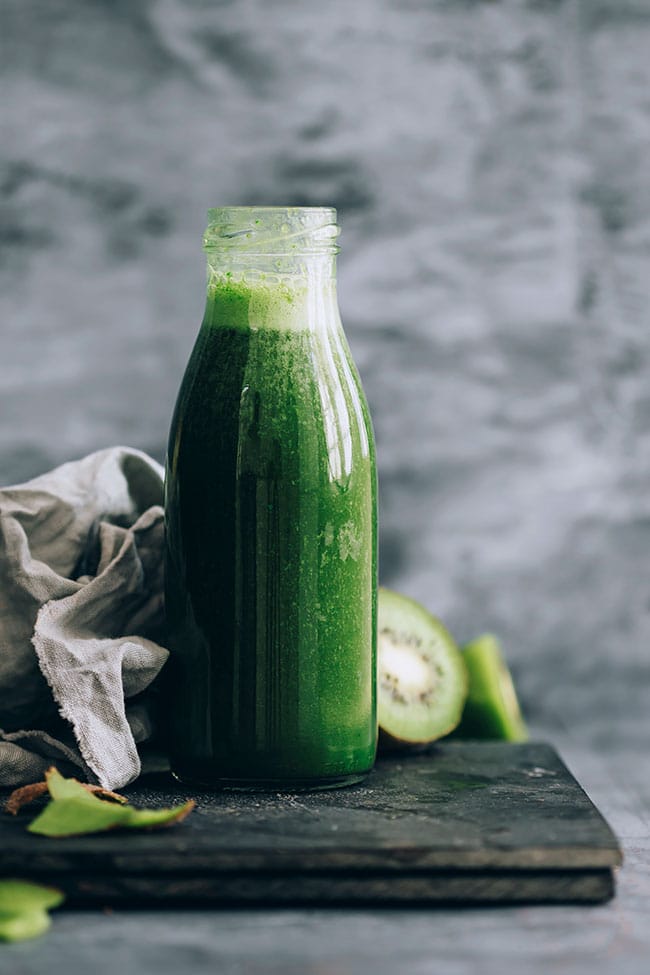 Pin

In the energizer smoothie, broccoli and kale are some of the most nutritious greens available. The half cup of broccoli and fresh kale leaves combined, gives you well in excess of your recommended daily intake of vitamin K and vitamin C.

Matcha has become one of my favorites to sprinkle into smoothies, as it's known to detoxify with all its antioxidants, it supports a healthy immune system and even helps to increase memory. 

I like to use organic yogurt or home made almond milk as a base for the breakfast smoothies, especially because the sugar and additives are high in most of the store bought one. I love almond milk because of its high concentrations of vitamins and minerals  such as calcium, iron, B6, folate and thiamine.